Soneiro Collective
We are a Berlin based international collective creating unique experiences in art & consciousness, movement & mindfulness, sound & yoga, science & ceremony, cultivating in depth experiences, and transformational events. We create and host yoga and meditation retreats in Germany and around Europe, curate and produce festival stages, guide and facilitate sound journeys, holistic events and workshops.
Join Us!
Soneiro September Retreat 2019
September 18 - 22, 2019
In September we Journey to a historic water mill situated in a protected nature reserve, providing all the comfort and space for you to feel at home and for us to create an in depth experience. As always we are creating an immersive retreat program that invites beginners and advanced yoga and meditation students alike with a hand built sauna wagon and 100% certified organic food.
Full Moon Retreats ♀
2019
On the fundament of academic discourses, eastern practices and traditions we cultivate awareness and bring more understanding into femininity in all it´s different aspects. The Full moon Seminars offer a wide program- both theoretical and practical.
Mantra Singing
& Medicine Songs
September 28
We open our voices and resonate with one another with mantras and medicine songs guided by guitar, harmonium, drums, shakers, energy and feeling.
Chakra Meditation
& SOund Journey
October 12
This is a journey through your energetic body instructed by a depth psychological guidance, live music, brainwave entrainment, affirmations, touch and aromatherapy.
Soneiro Laboratory Mantra - Music
November 2 - 3
This seminar is envisioned for people who aim to go deeper into music, composition, bhakti yoga, sound healing, singing and human resonance, sound journeys and ceremonies.
Soneiro Lab
Berlin Workshop Series
The Soneiro lab is a weekend workshop series taking place in Berlin that concentrates on the transformative aspects of art and consciousness, and the connections between them.
Videos & Music
Watch our latest film & video productions
hear our latest music & meditation releases
Who We Are
WE FUSION ART AND CONSCIOUSNESS. SOUND AND YOGA. SCIENCE AND CEREMONY. MOVEMENT AND STILLNESS.
WE DO NOT COMMIT TO CERTAIN BELIEVE SYSTEMS OR CONCEPTS. WE BELIEVE IN THE POWER OF Philosophic Vision AS AN INFINITE SOURCE OF CREATIVITY AND CREATION.
OUR PLACE IS HERE AND OUR MOMENT NOW.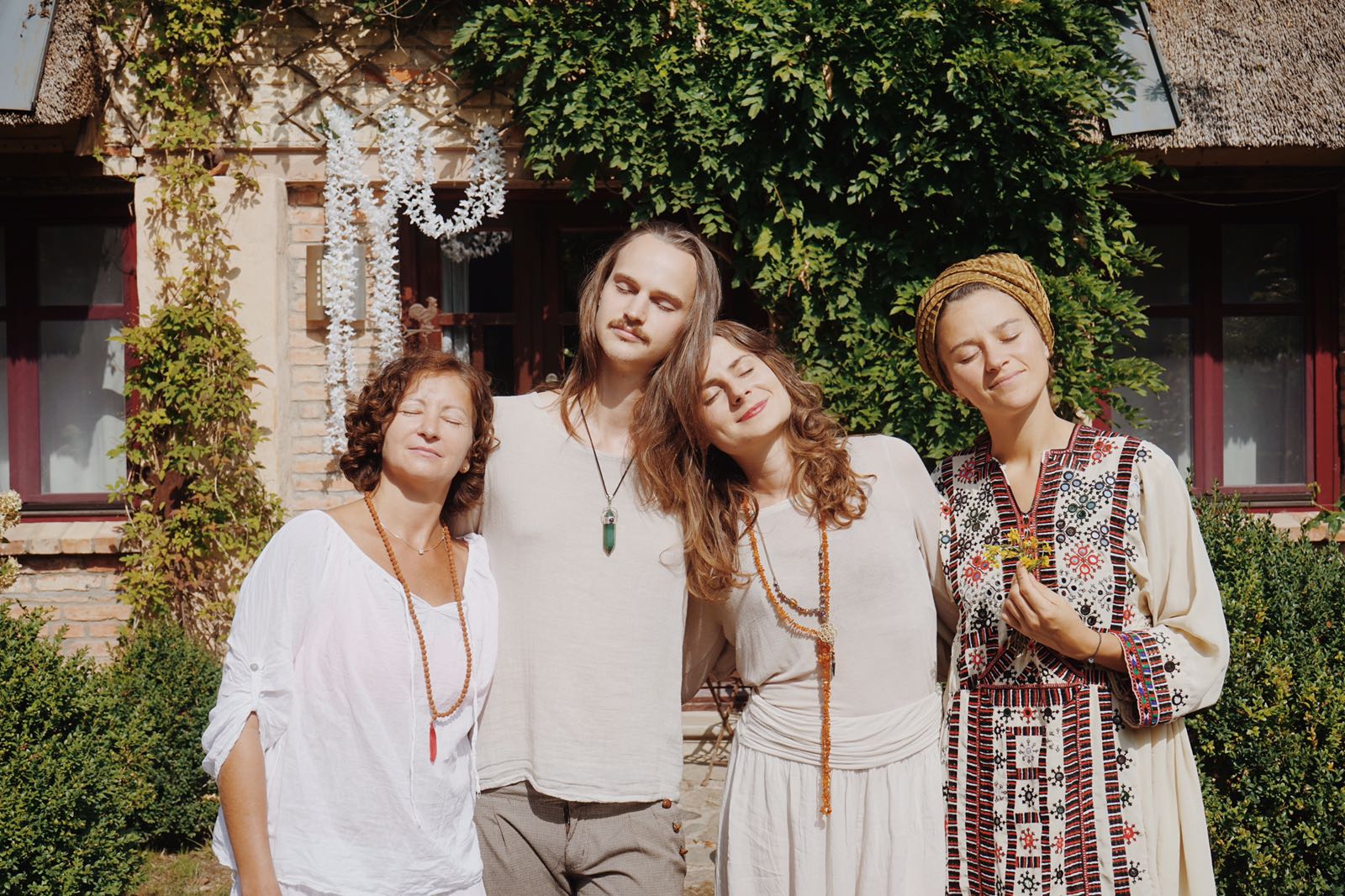 Katharina P.
Project Manager
I've been to many Soneiro Collective events (women's circles, yoga classes, music meditation, retreats, festival workshops) and I'm a huge fan! I recommend it to anyone who wants to escape their everyday life for a moment and is enthusiastic about a pinch of spirituality. Alisa combines practice and theory, so that even after the events you still have something of the experience for a long time. Temple is a musician through and through, has a fantastic voice and enriches the events with his musical talent! Soneiro always comes up with new concepts, so that you always experience something new - just like a short holiday!
Jil Z.
Blogger (@jiliciousjourney)
I spent 5 days at the Soneiro Yoga & Meditation Retreat which took place at a magical place nearby the Baltic Sea, a charming thatched house surrounded by a big lush garden with lots of beautiful (fruit) trees and natural spirits holding space for our rituals and deep practice.

Alisa and Temple created such a unique and holistic program consisting of different yoga styles and techniques, pranayama, music, shamanic rites, lots of knowledge and ancient wisdom, meditation, sharing circles, sound healing, movement,... Its remarkable how Alisa manages to combine all these different influences and techniques in such a pure and authentic way to a diverse yet homogenous offering that enabled literally anyone in the group to dive deep and open up beautifully ♥️

I am still enchanted by these days of magic: a long practice in the morning after I started the day with a run to the seaside, then this wonderful (& sooo spot on) tarot and rapé session in the garden 🌿, our incredibly open and healing women circle, mantra singing in the evening, followed by a shamanic drum "journey" to end the day, the most clear night sky I've seen in a long time and 3 falling stars for me 💫 Wow. I'm so grateful and moved by all the beauty and healing I've witnessed, for the devotion I saw and felt myself, the alignment, the connection, the conversations, the bliss after our morning practices, the love that was flowing around...
Robert K.
Entrepreneur & Sound Designer
The perfect combination of theory and practice in spirituality. With her almost inexhaustible wealth of knowledge and experience, Alisa is able to clearly and unambiguously establish practical references from the (for some) distant world of spiritual science. Together with her team, she lovingly creates her workshops, creating unique journeys that I will always remember. The special combination of the healing elements of sound, smell and colours are used in a well thought-out, almost magical way.
My recommendation next to the specially worked out retreats are the sound meditations! The musical journeys are really outstandingly creatively worked out and the best I have experienced in sound meditation. Especially recommendable for beginners.
Instagram
Check out our official Instagram feed below