Soneiro Retreat at
the Baltic Sea
In mid-summer we are drawn to the sea! Join us for an enchanting experience in a wonderful nature and pure clean air near the Baltic Sea. We welcome you to journey with us for an in depth experience.
This 300 year old building with it´s original thatched roof provides all the comfort and space for you to feel at home and for us to create an in depth experience. As always we are creating an immersive retreat program that invites beginners and advanced yoga and meditation students alike. Sound. Yoga. Silence. Meditation. Philosophy and vegetarian/vegan cuisine are just the basics to count on for this experience. Also find information about the program, fotos of the location and past retreats and the booking process below. Do not hesitate to contact us.
We are happy to have you with us***
WHAT WE OFFER
5 days / 4 nights

4x 2 hour morning yoga practice

3x 90 min yoga workshop

4x 20 min morning meditation

Broad range of yoga forms: Vinyasa, Hatha, Kundalini, Yin & Yang Yoga

Immersive program including yoga, meditation, sound, live music, philosophy and circles
Trip to the Baltic Sea, ceremony on the beach
Experienced team (we are holding international retreats together for over 4 years)

300 year old house close to the baltic sea

Comfy double and 3er rooms

Vegetarian and vegan cuisine

Yogastudio with all props (yoga mats, blankets, blocks, etc.)

Mystical gardens to explore, feel the relaxation away from the city
PROGRAM
Retreat Date: July 15 - 19, 2020
Early Bird until february 15, 2020
For our Retreats we assemble a full Soneiro Team to bring Yoga, Meditation, Sharing Circles, Theory, Music Meditation, Mantra Singing and other musical sessions. We will enjoy the beauty of autumns glow – comfortably enjoying the fresh air and time to slow down and process. We will fly with our magical instruments and create one of a kind spaces to learn, explore and gather in our yoga studio. We also provide workshop material that you can take home with you (like documents from our theory circles for example).
At night our sound meditations happen inside in the beautiful yoga space with an old oven keeping us warm.
Check-In: Wednesday, 3pm

Check-out: Sunday, 2pm
Impressions from our last summer
retreat at the Baltic Sea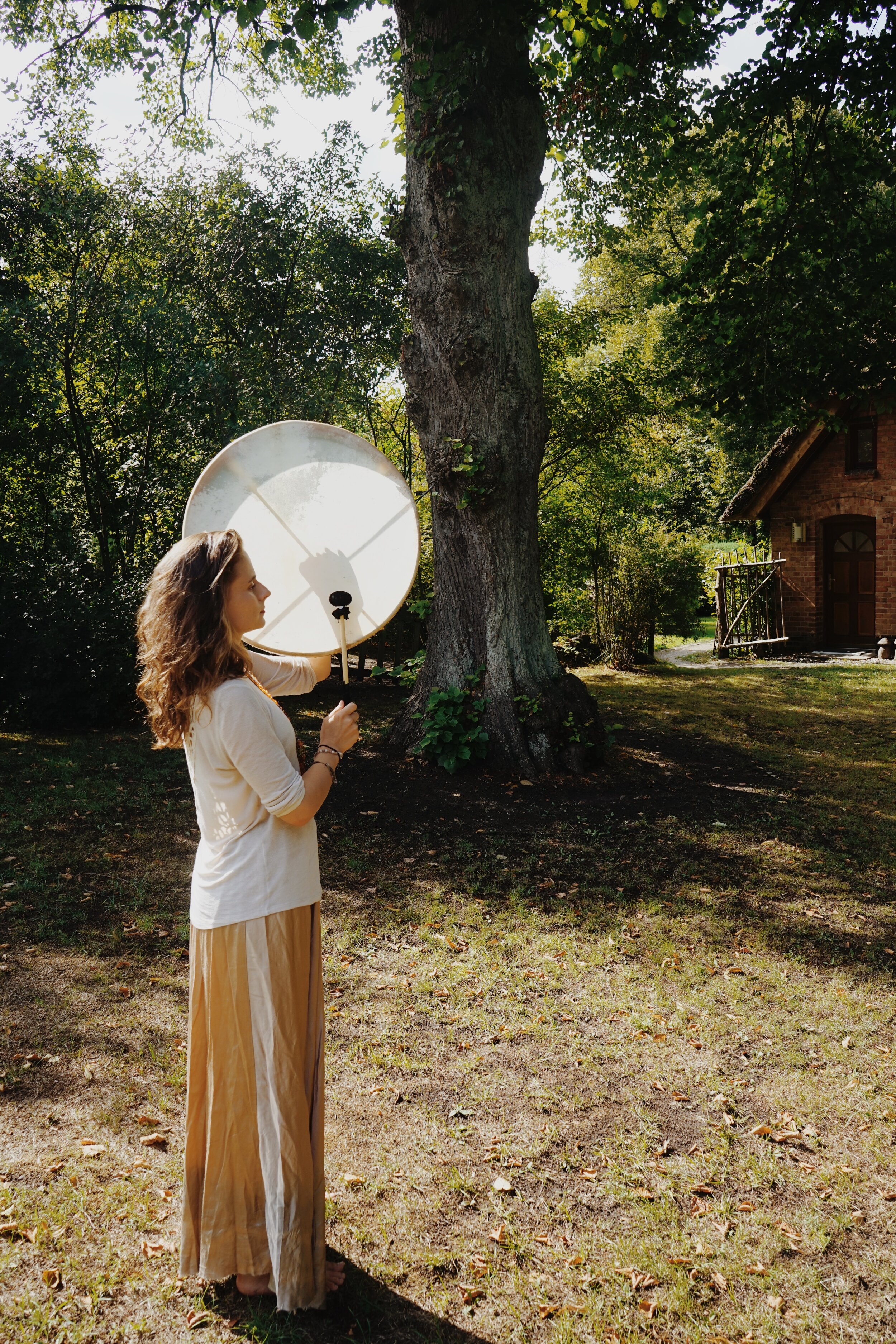 LOCATION
The mystical mansion on the Baltic Sea is a beautiful, 300-year-old clay-half-timbered house in a huge park-like garden with majestic trees, located in the slightly hilly landscape of the Mecklenburg Baltic Sea coast. Find peace and quiet in the magnificent nature. The house provides us many communal areas which guarantees a lot of space and comfort during our week. 30 minutes walking from the baltic sea beach (10 minutes by car).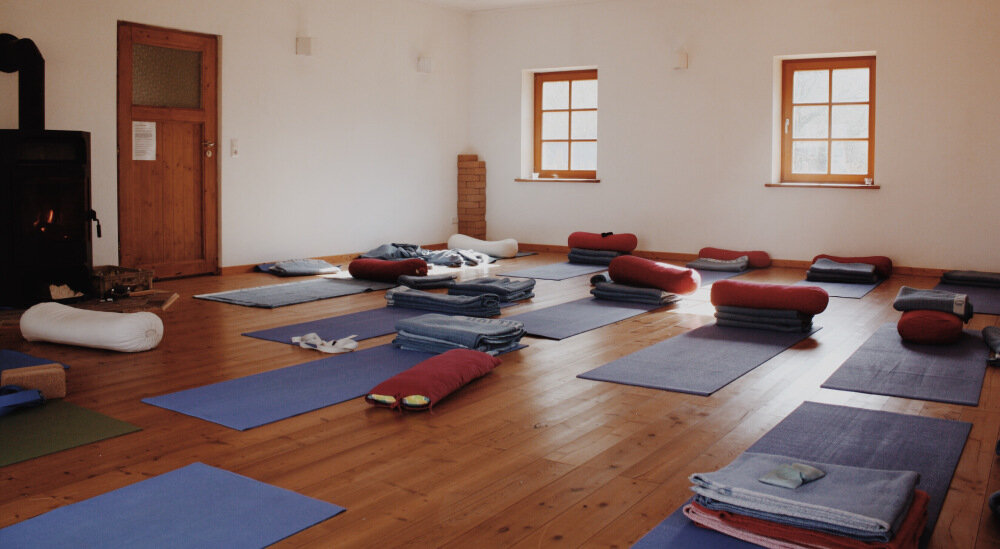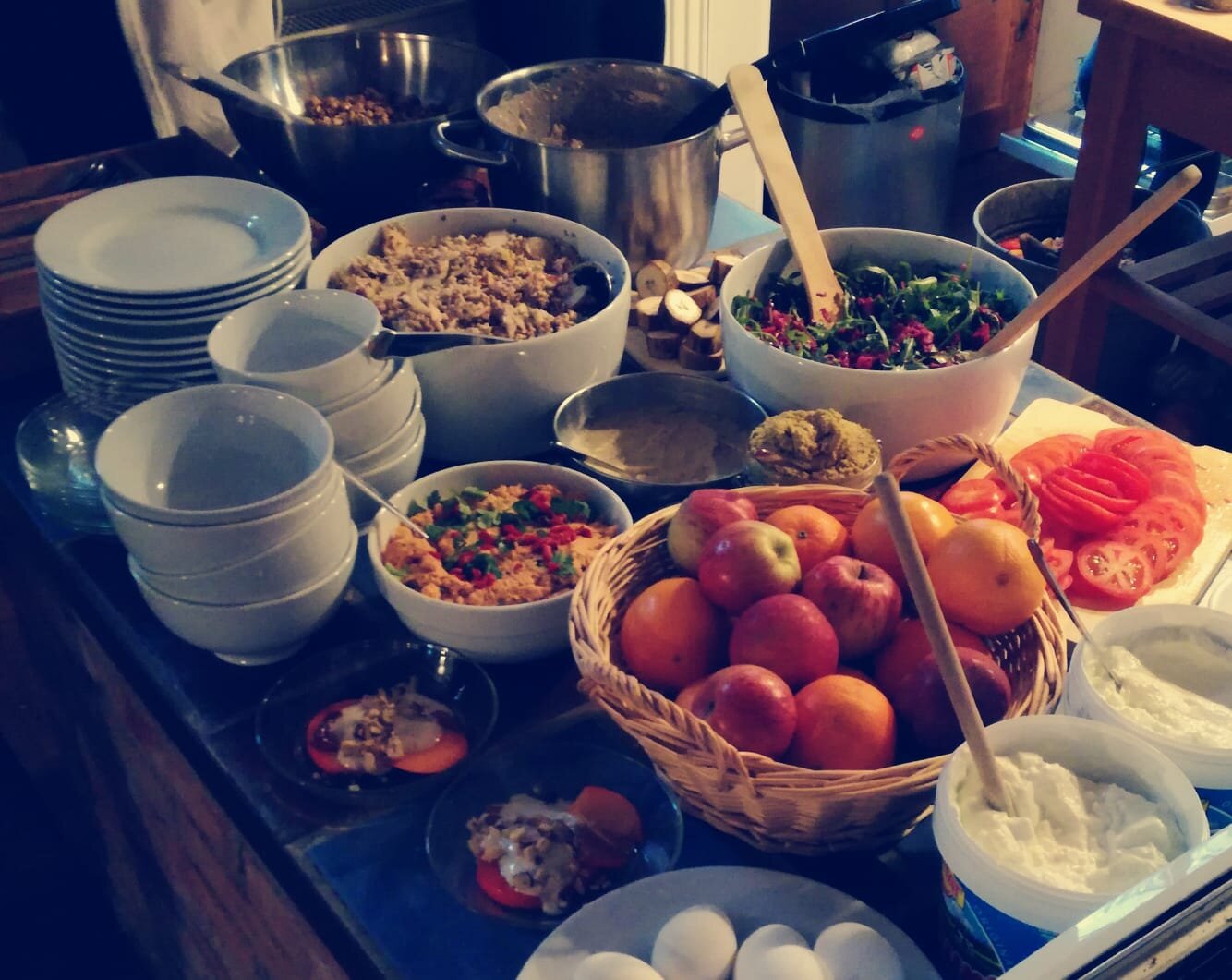 FOOD
Our nutritionists are creating fresh vegetarian and vegan meals every day influenced by the ayurvedic teachings. If you have any allergies you can let us know when you book your space.
Olive B.
" I was lucky enough to go on the 'SOL' 4 day retreat in Mallorca this April (2018). I had such a wonderful time and I would highly recommend both Alisa and Temple and the whole Soneiro Collective for their ability to hold space and work dynamically with people. Working with old and new practices alike they bring a refreshing yet deep, thought provoking space to learn, practice and grow. "
Jil Z.
" I was at their Baltic Sea retreat and it was so so beautiful… with lots of yoga, meditation, sharing circles, music, mantra singing, nature & rituals...✨ I love Alisa Reimer's holistic approach to mindfulness and spirituality and can highly recommend her work!!

I support them because I know how valuable and important these techniques and experiences are "
We hold our retreats with a very experienced team of four to five members, including
Alisa (Yoga and Meditation Instructor), Temple (Yoga Teacher and Sound Designer), a Nutritionist and our lovely assistants.
We are a team of experts in our fields, which is why we bring substantiated depth, academic knowledge, and a precious treasure trove of experience and artistic aesthetic in each detail of the retreat.
Read more about our team below.
Alisa Reimer
Yoga Teacher + Cultural Scientist
Alisa is trained yoga and meditation teacher, cultural scientist and artist. In Mexico she studied indigenous cultures, literature and theater; learned from different indigenous cultures, wrote as a freelance journalist for german and Mexican magazines and made her yoga teacher training. In Berlin she founded the non-profit organization YOGA FOR OTHERS e.V. to bring yoga and meditation to the people in need. In 2016 she opened the space for Soneiro Collective. Her current researches at Humboldt Uni Berlin about shamanistic and buddhistic practices she brings into the different sessions she is holding. In her work a will to create something truly mind opening brings together her diverse interests and therefore invites to experience the magical connection between art, science and consciousness.
Temple Haze
Yoga Teacher + Sound Designer
Temple is an American born singer/songwriter and composer based in Berlin. Known for his composition work and collaborations with various Berlin based artists such as Sam Shure , Narou and Oliver Koletzki , Temple also dives deep into sound design, film score composition, brainwave entrainment frequencies, meditation, pranayama breath work and ancient mantras; bringing the underground Berlin music scene and spirituality together in harmony. As co-founder and musical director of Soneiro Collective he holds space for music meditations and mantra singing circles portraying the best of his universal knowledge and empathic feeling for music. In March 2019 Temple released his Reflections EP - Listen to it HERE. You can also hear his debut EP "Anotherside" - Listen to it HERE - and check out his official website to learn more.
Marrit Vos
Nutritionist
Marrit is a Dutch nomadic caterer, based in Berlin. After her studies in Interdisciplinary Social Sciences in Amsterdam she became intrigued by inner work, yoga and holistic healing methods. She completed a yoga teacher training in India for her own practice and kept on learning about how nutrition can be supporting and complementing a happy and healthy state of being.

In her kitchen, she combines spices, herbs and traditions from all over the world. Her food is festive, nourishing, packed with love and leaves you energised. Marrit´s curious mind helps her find clever solutions for a wholesome plant based diet, that she will share with you during the retreats.
RETREAT FEE
Retreat Date: July 15 - 19, 2020
Early Bird until february 15, 2020
The retreat fee includes accommodation, program, workshop material and vegetarian/vegan cuisine. We provide yoga mats, blankets and meditation props. Transport is not included. The normal price is for a 3er room (3 Beds- man and women seperate). For an additional price of 50€ pP you can book a double room. Please be aware that we can just respect your room wish with the given availability. First come, first serve. We can´t guarantee single rooms, just in case a room stays free, we can provide that (will announce that one week before the retreat).
TRANSPARENCY
ROOM AND BOARD:
4 nights in the Holthof + 3 meals a day = 350€
SEMINAR FEE:
380€
TOTAL PRICES
EARLY BIRD : 730€

NORMAL FEE : 830€

DOUBLE ROOM: 50€ P.P.
Double Booking Deal - Book with a friend and receive 40€ off the normal price*
Pay in rates - Contact us if you would prefer to pay in 4 rates.
INVITATION
Our retreats fill up quick so do not hesitate to contact us if you want to journey with us. You can leave your data in the form below. If you are interested we will send you all the necessary information about the retreat, prices, conditions etc. Please fill in the form below to get in Contact with us. We are excited to meet you!
For your Booking you will receive a simple application form that you send back and as soon as your deposit (min. 50 % of the fee) is done, your spot is safe. Before each retreat we are sending out a sheet with all the necessary information.
We look forward to hearing from you!
HOW TO GET THERE
Our participants are organising their transport by themselves, however we are always giving the opportunity to the participants to connect before the retreat, so you can easily find a travel partner- by car or public transport. After your booking you will receive travel information (for public transport etc.). The address of the retreat location is:
DER HOLTHOF
Dorfstraße 12
18230 Wendelstorf

Directions
Have Questions?
Please Read our A.G.B's + F.A.Q in the link below